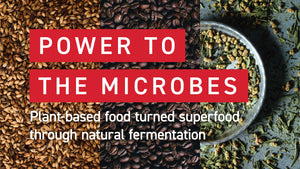 In Microbes we trust
We believe that answers to our most pressing issues around food quality, sustainability and security can be found in nature. We are inspired every single day by the amazing microbial biodiversity we are working with, and driven by the desire to harness their biology to naturally craft incredible foods through natural fermentations.
Cultured Coffee - Healthy Stomach Friendly Fermented Coffee
Sale price Price $15.99 Regular price $19.99
News: Introducing Cultured Chocolate!
We've collaborated with our friends over at Raaka Chocolate to bring the benefit of controlled natural fermentation to cacao. We are selling a limited batch of the first bars and we'd love to hear what you think. Get yours now!
Learn More